2014 Real Estate Trend and Innovation Forum Held in Beijing
Sunday, October 12, 2014
2014 Real Estate Trend and Innovation Forum Held in Beijing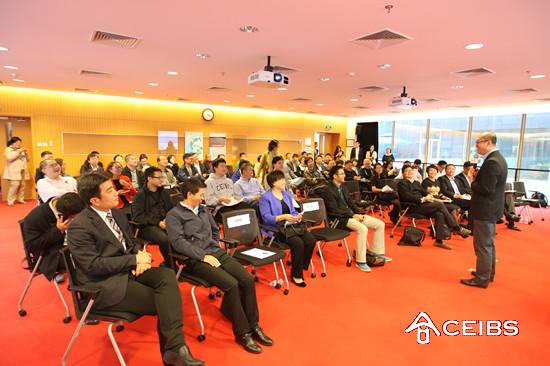 October 12, 2014, Beijing – More than 60 CEIBS alumni from a variety of industries attended the Real Estate Trend and Innovation Forum 2014 held today on the CEIBS Beijing Campus. Organized by the CEIBS Real Estate and Construction Alumni Association (Beijing), the forum aimed to provide a platform for discussion of industry trends, including how the Internet is transforming the sector. Speakers included:
- Ms. Qin Hong, Director of the Policy Research Center of Housing and Urban Construction Department;
- Mr. Xie Wei, Managing Director of Beijing Vanke Property Management;
- Mr. Li Jiancheng, co-founder of Shenzhen Fangdd Network Technology;
- Mr. Zhang Rongyao, Board Chairman and Managing Director of Beijing Rongchain Service and President of the CEIBS Entrepreneurs Club (Beijing);
- Mr. Zhou Haiping, Director of Operation Management Center for Fangjinsuo, an online real estate financial services platform.