2014 CEIBS MBA Career Trek
Friday, November 7, 2014
2014 CEIBS MBA Career Trek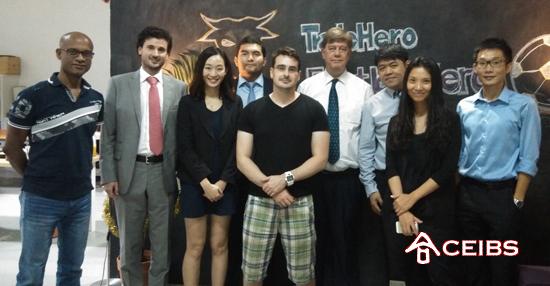 MBA Students visit mobile gaming start-up TradeHero in Singapore
November 6-7. Singapore, Hong Kong, Beijing – CEIBS MBA students travelled to Singapore, Hong Kong and Beijing over the past two days as part of the annual MBA Career Trek Programme organized by the MBA students with support from the MBA Career Development Centre. The programme aims to help the students deepen their understanding of their target industries and functions and explore potential career opportunities through company visits and meetings with senior executives. It also provides a networking platform and gives companies a chance to experience firsthand the professionalism of CEIBS' high caliber MBA students. The 2014 CEIBS MBA Career Treks were launched simultaneously in the three different locations. MBA 2016 students Kevin Lee, Alexander Kern, and Stav Shvarts along with the Student Investment Club volunteered to lead this year's Treks.
"It was a big success!" said Alexander Kern. "We had a great experience and got important insights from the companies we visited," said Stav Shvartz. Many of the participating companies expressed interest in learning more about CEIBS MBA students after their visit. One student even got an interview for a summer internship following the Trek. Read on for highlights from each location:
SINGAPORE
Students visited five companies: DHL In-house Consulting, Credit Suisse, TradeHero, Abbott Labs and OCBC, which gave them insight into many different industries, including pharmaceuticals, logistics, mobile gaming and finance. This is the first year that TradeHero, a start-up mobile gaming company, participated in the Singapore Trek. Mr. Dominic Morris, CTO and Co-founder of the company, spoke with the students about his entrepreneurial journey and offered some insights for dealing with investors. 

MBA students from CEIBS and Singapore b-schools NUS, SMU and NTU enjoy a networking dinner
CEIBS invited MBA students from three top business schools in Singapore (NUS, SMU and NTU) to participate in the Trek, and a networking dinner was held for the students from all four schools, which was an added bonus for those who made the trip. 
HONG KONG
The Hong Kong Career Trek focuses primarily on visits to global financial institutions. This year it attracted a diverse range of participants: 13 students from nine countries across Asia, Europe, and North America. The students visited seven companies, including ANZ Bank, Merrill Lynch, Rothschild, McKinsey, Credit Suisse, Blackstone, and BASF. During these company visits the students discussed job opportunities and the market environment with executives working in various areas, including investment banking, private equity, private banking, asset management, strategy consulting and business development.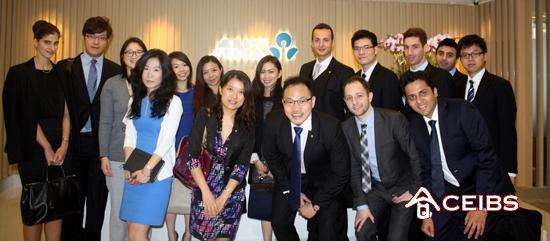 CEIBS MBA students and alumni at ANZ Bank in Hong Kong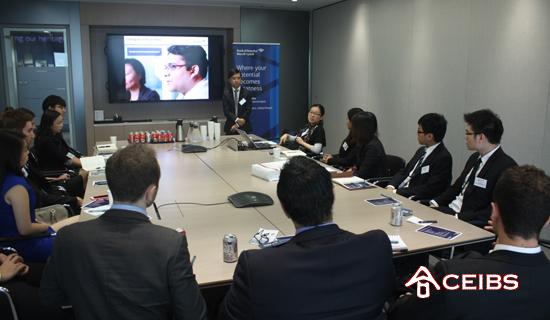 Ms. Victoria Lau, Director of Merrill Lynch, meets with CEIBS MBA students
Many CEIBS alumni now hold senior management positions at various Hong Kong financial institutions. A networking mixer was held, which gave the students and alumni an opportunity to get to know one another, and provided a platform for the students to polish their networking skills. Around 10 alumni from companies such as ANZ, Morgan Stanley, Moody's, Standard Chartered, and Deutsche Bank turned out. CEIBS alumni resources in Hong Kong also open a window for expanding the company visits on next year's Trek.
BEIJING
For the first time this year Career Trek students travelled to Beijing, which reflects the growing number of finance and investment companies that are taking hold in China. Eighteen CEIBS MBA students visited six renowned Beijing companies: CICC, CreditEase, CDH, China Culture Industrial Investment Fund, Jingdong and IDG.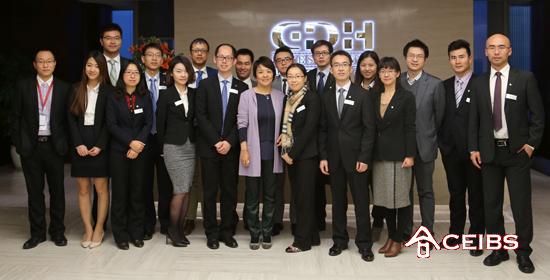 CDH VC partner Ms. Chen Wenjiang (center)with CEIBS MBA students at CDH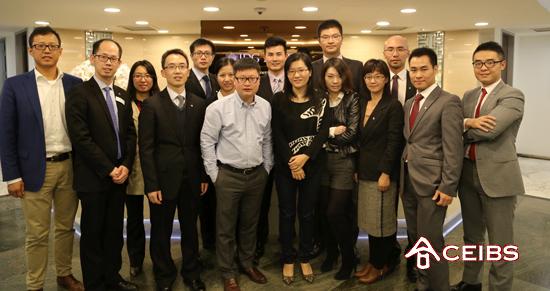 IDG principal Mr. Zhu Sixing (center) with CEIBS MBA students at IDG
The Beijing company visits gave the students firsthand insight into the newest trends in the finance and investment sectors through lively discussions of topics such as crowd funding, Internet finance and VC investment. Executives at CICC explained the company's development plans for its investment banking business targeting small- and medium-sized enterprises (SMEs). They explained why they believe that SMEs stand to benefit greatly from the government's new economic reforms. Credit Ease explained how it reached its position as the leading domestic Peer-to-Peer lender in China. Ms. Chen Wenjiang, CDH VC business partner who has witnessed firsthand the venture capital industry's development in China, shared her insights on VC investment.