Over the past decade, 800 CEIBS MBA students have had their careers shaped by 500 mentors who have generously dedicated their time to CEIBS Mentoring Programme.  Launched in 2004, the programme helps MBAs make a smooth transition to the business world after they graduate.
  
CEIBS Mentoring Programme has grown, over the years, to include workshops and networking events that broaden the scope of participants' knowledge and strengthen their contact base. The collaboration between mentor and mentee is mutually beneficial. Students receive career guidance from seasoned professionals who, in turn, get plugged in to the younger generation of business executives. Both sides also benefit from forming deep and lasting friendships.
  
The latest round of recruiting for the popular programme began on June 15 and new mentors are always welcome. To participate, email mentoringprogram@ceibs.edu.
  
Read on as participants share how CEIBS Mentoring Programme has changed their lives. (For more stories, visit http://en.ceibs.edu/mentoring-programme ).
Mentor: Anthony Zhou, Managing Director of Vopak Terminal Zhangjiagang Company Limited 
Mentee: Charles Zhang (MBA 2012)
My mentor, Anthony Zhou, is a true gentleman. He always makes the time to meet with me and always arrives prepared to discuss an interesting topic. He has guided me in formulating a clear understanding of my capabilities and areas in which improvement is needed. He has helped broaden my horizons and though the mentoring programme is not yet over I have already gained so much from the experience. My advice to fresh mentees: having clearly defined goals will help you leverage this opportunity.
Mentor: Hans-Peter Bouvard, Operations Manager of a Watch Manufacturer
Mentee: Enrico Turchet (MBA 2012)
I applied to be Hans-Peter's mentee because his profile showed that we had many things in common, from our educational background to some aspects of our professional experience (although he is obviously much more experienced than I am). Plus we are both Europeans who have lived in China for some years. So, I thought he would be the best person to give me advice on how to choose my next move after the end of my MBA journey. After all he had, starting from a similar background to mine, managed to reach, at a rather young age, a top management position in one of the most famous companies in the world.
So far the mentoring programme has been very valuable to me and I believe it will give me an edge once I actively start looking for a job. I would certainly recommend that other students join this programme. I would suggest that they select a mentor with a similar personal or professional background. It will be much easier for him/her to put himself/herself in your shoes, understand your needs and aspirations, and guide you through your next career steps.
Mentor: DENG Sanhong (MBA 1999), Senior Manager, CEIBS Alumni Relations Office 
Mentee: Edmond Wu (MBA 2012)
My mentor Deng Sanhong is a typical consultant with rich experienced in her field. Even the smallest detail doesn't escape her in her pursuit of excellence. She also gives homework! I was tasked with drafting a one-year mentorship plan based on consulting standards. The plan centred on how to transition into the consulting industry and was finalised after a lot of serious deliberation.  It was tremendously helpful and gradually provided a comprehensive understanding of the consulting industry.  Even if I do not end up in that field, I am sure that this exercise will help my future career development.
If I were asked to choose one person that has helped me most outside of the classroom, I would undoubtedly say my mentor Deng Sanhong. If I were asked to choose the most valuable programme at CEIBS, I would definitely say the mentoring programme.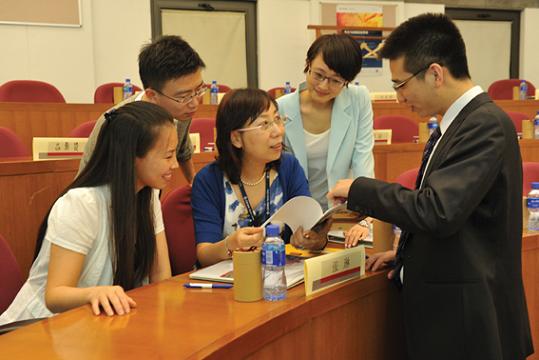 Mentor: Linda Zhang Lin (GEMBA 2001) Partner and Corporate Coach, Keystone Group (Shanghai) Ltd
Mentee: Susie Zhang  (MBA 2011)
This year marks the tenth anniversary of my graduation from the CEIBS EMBA Programme and the fifth year since I began participating in the mentoring programme. I have provided guidance for 17 MBA students (12 from China and 5 from overseas) during their arduous learning journey. I've also kept in touch with them and stayed up to date on their career progress after they graduated.
My mentoring experience has provided me with a source of passion and creativity. I would like to thank my mentees for their trust, dedication, candid reflection, and all the hard work they have put into making our relationship work. As mentees and mentors work together, we gain lifelong benefits from the commitment we have made to excel together. It is my sincere hope that the CEIBS MBA Mentoring Programme will evolve into a happy home, where more alumni can show their devotion, take the time for self-reflection, reap many benefits and grow along with their mentees. 
Mentor: Deng Sanhong (MBA 1999), Senior Manager, CEIBS Alumni Relations Department
Mentees: Edmond Wu (MBA 2012), Michael Zhang (MBA 2012)
After my bio was provided and students learned about my consulting background, there was a lot of interest from many who wanted me to mentor them.  I picked Wu Jun as my first mentee. It was my hope that under my guidance, he would be able to establish himself as a professional manager using the skills and knowledge gained from the MBA Programme. My second mentee, however, was selected by chance. I was chairing an event on campus when Zhang Zhehua introduced himself and asked if I could be his mentor. I was deeply impressed by his courage, confidence and sincerity. I also thought that, complementary in character and experiences, he and Wu Jun would likely strike sparks off each other during my mentoring. I wasn't wrong.
Their remarkable capacity to learn and rapid progress have filled me with comfort and pride. My mentoring, however, was not a one-way street. They taught me how to use micro blogging and WeChat, and compared notes with me on how social networks such as Facebook and mobile internet platforms have transformed the younger generation's lifestyle. Besides, their hobbies – marathon running, electronic sports and rock-climbing – opened up entirely new horizons for me. I would like to thank my mentees for their dedication to the mentoring programme; it's been quite a memorable journey.